History of the Power and Light Building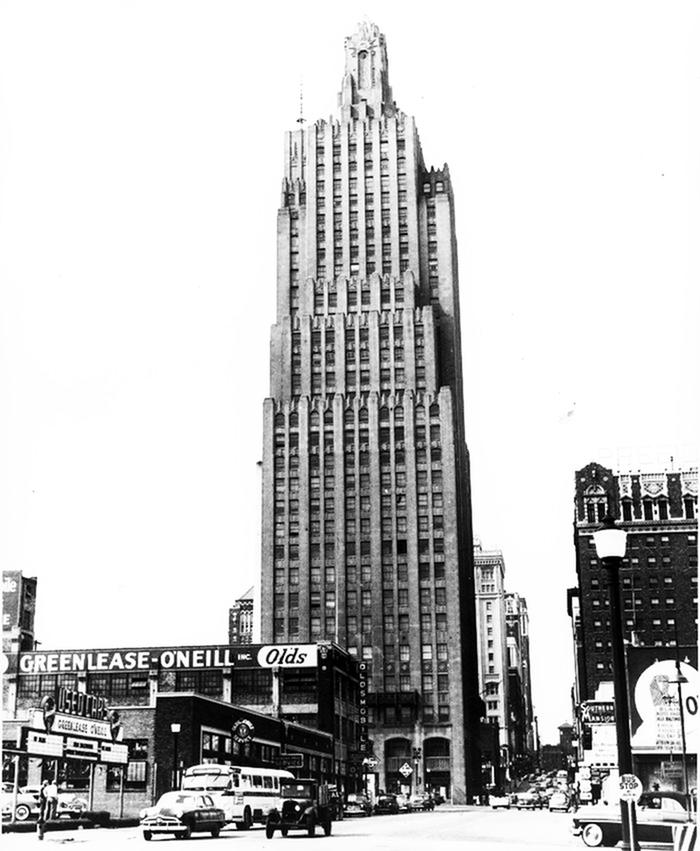 Did you know that Power & Light Apartments sits inside what was the tallest building in Missouri for nearly 50 years? Take a minute to learn some exciting facts about our historic apartment community:
Beginnings
In 1930, excavation began on one of Missouri's most prominent pieces of architecture. This 36-story skyscraper — the new headquarters of the Kansas City Power and Light Company, or KCP&L — opened in 1931 as a way to boost the local economy by providing jobs. Today, the Power and Light Building is recognized as one of the finest examples of Art Deco architecture in the United States and as a monument to the innovation of its time.
Building Features
KCP&L spared no expense with the building's construction, which boasts several signature features: a reinforced concrete structure, an exterior clad in Indiana limestone, a lobby space rich with Art Deco ornamentation, and an impressive canvas of marble and granite for the foyer's decorative plaster moldings and custom white metalwork.
The focus of the tower was its novel lighting display. Each evening at sunset, a 21-foot lantern atop the highest floor glowed for all to see as red and orange lights shimmered through its glass paneling. Even more, each of the building's setbacks were equipped with multicolor floodlights to create a luminous, flamelike effect. Today, these colorful lights are still illuminated to leave nighttime passersby in a state of wonder.
Upon the building's opening, the large display windows along 14th and Baltimore showcased new devices and appliances that illustrated the many uses of electricity. A two-story interior auditorium was also used to conduct demonstrations of how electricity and these household tools could improve people's everyday lives.
The Power and Light Building Today
At its completion, the Power and Light Building was an exciting architectural exhibition, and it still remains one of the most recognizable silhouettes in the city's skyline. Write the next chapter of your life story in a place where history was made; make this momentous Kansas City landmark your next home today!
SCHEDULE A TOUR